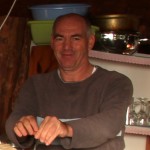 Welcome my name is Salih Topuz I have been running the Kent (Kent is the Turkish word for City) Pansiyon (Pension small hotel) for 17 years. The hotel is ideally situated adjacent to the ancient ruins at Myra with its stunning amphitheatre and necropolis. and is a few metres from The Lycian way (Section's 17, 18 & 19 in Kate Clow's book The Lycian Way)
My Kent Pansiyon has 10 rooms  all at ground floor level. We have internet with WiFi and offer free tea & coffee in the hostel. breakfast, evening dinner & packed lunches are also available
I have lived in Demre all my life and have been interested in the Lycian Way for over 13 years after helping George E Bean (Author of Aegean Turkey, Lycian Turkey & Turkey Beyond The Maeander: An Archaeological Guide ) explore the region. I have a good knowledge of The Lycian Way and an excellent understanding of a trekkers needs.
I run a free shuttle service from Cayagzi Beach (End of section 17 in Kate Clow's book The Lycian Way) back to my hotel and can assist in offering transport and accommodation over the difficult section from Myra to Finike. This enables you to do the mountain walk stages as day walks with no tent required.
Other services offered are:
Pick up / bag collection from Bogazcil or Apollonia
Bag  / taxi service Kas to Karaoz
Toros Mountains
Demre to Beloren or Belos
Trips to ruins of Angel Gabriel, Demre Castle, Sura river necropolis
Boat tours to Kekova & the underwater city of Simena
I offer hospitality plus! all at very reasonable prices!
For more information please contact me!